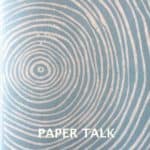 You can listen to this episode by clicking on the white arrow above, or subscribe to the Paper Talk podcast on Apple Podcasts (or find more listening options on Spotify) so you never miss an episode. If you enjoy the show, tell a friend about it! Thank you so much.
Marieke de Hoop runs PapierLab in Rotterdam, the Netherlands. She has been making and experimenting with paper for the past 40 years using traditional papermaking techniques. De Hoop works with other artists and makers to create unique, beautiful and sustainable papers and products. During the peace movement in the 1980's, de Hoop learned about folding paper cranes. She learned how to make paper next, and visited Japan soon after.
We talk about how de Hoop started out making 1000 sheets of recycled paper a week and delivering it to shops on her bicycle. She studied music therapy, and developed a thriving origami theater program. Watch a video here.
In her studio, Papierlab, de Hoop has a Peter Beater, manufactured by Peter Gentenaar, one of the few beater manufacturers in Europe.
Rotterdam is a circular city, also called a blue city, which means that  companies use the waste from other companies to make their products. de Hoop offers workshops, trains master apprentices, and makes paper from sustainable plant fibers and textiles.
In November 2022, Papierlab was named an Intangible Heritage of the Netherlands. As a result, the city provides support to artistans and innovators so that they can work with de Hoop, researching fibers for papermaking projects.
It was fascinating to hear how de Hoop took one particular fiber from the farm to her studio. She collaborated with mechanical engineer Rik van Veen to explore the possibilities of making 3D shapes from paper produced from a specific waste stream: asparagus peels. A successful 2023 Kickstarter campaign will result in a film about this work.
"From the scraps of yesterday, we make paper for the future."
++++++
Marieke de Hoop's recommendations:
 If ever people come to the Netherlands: visit the Paper mill The Schoolmeester. The only paper windmill in the world. It is where the rough draft of the Declaration of Independence in 1776

was printed, and you can see a copy of that. It was made on Zaans Bord: rags (linen, hemp and cotton) with raw flax.

Japanese papermaker Rogier Uittenbogaard is Dutch, but the Japanese say that he is more Japanese than the Japanese….. He is de Hoop's paper hero.

 

This video

shows the steps in the Japanese papermaking process with no talking, just visuals. 
++++++
Visit Marieke de Hoop's website to learn more about her work. You can also follow her on Instagram.
++++++
Music featuring excerpts of Makin' Paper folk song by Peter Thomas. Listen to the full song and find out about other paper and book arts folk songs.
Gary A. Hanson did the sound editing for this episode. He practices and refines his skills in audio production while making his own podcast I'll Have a Beer and Talk, a show about tech news, culture, weird animal stories and of course, beer. Gary is also the Deckle in Pulp & Deckle, a Portland-based community hand papermaking studio.
++++++