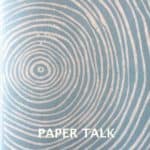 You can listen to this episode by clicking on the white arrow above, or subscribe to the Paper Talk podcast on Apple Podcasts (or find more listening options on Spotify) so you never miss an episode. If you enjoy the show, tell a friend about it! Thank you so much.
Therese Zemlin has worked in a range of media, including paper, welded steel, light, digital media, and natural materials. Her work ranges from small sculpture to installation and is inspired by elements and phenomena of the ever-changing natural world. She has exhibited her work nationally, and has received numerous grants, including a Southern Arts Federation/National Endowment for the Arts Regional Fellowship, and a Pollock-Krasner Foundation Grant. After earning a BFA from the University of Illinois at Urbana-Champaign, and an MFA from the University of Texas at Austin, Zemlin taught Fibers and Sculpture at the University of South Carolina, Columbia; Appalachian State University in North Carolina; and Phillips Academy Andover. She currently divides her time between Saint Paul and the north woods of Minnesota. 
We had a lovely meandering discussion about several bodies of work. Her early paper works involved steel armatures covered with paper.
I have long been fascinated with Zemlin's explorations with the collapsible Japanese lantern form.
Click through to see 5 Bodies in motion.
Zemlin's Paper Iteration Series is constructed from 20 rectangles of cut Japanese paper.  She printed photographs of tree branches on the paper, using the images as guides for cutting the paper. One byproduct of this process was a collection of irregularly shaped paper pieces, essentially the negative space-shapes that were framed by the tree branches.
Zemlin states "My art begins as a desire to make something beautiful and tangible in response to the constructs of technology and society and the forms and phenomena of nature.  For years, I have taken photographs of plants, skies, and water as a means of collecting inspiration and source material for my work. Ongoing developments in technology surrounding digital cameras, scanners, and large format printers have allowed me to work with these images in much the same way that I approach drawing and sculpture."
Zemlin's recent work involves paper weaving, which has Zemlin thinking about how text shifts the way a viewer responds to an image, and act of transforming book pages into continuous lines of text, threaded into a paper textile image, where the strips of text become fragments of ideas, thoughts, and subjects.
++++++
Therese Zemlin's recommendations:
Zemlin uses the Notability App to create digital sketchbooks, which she prints using Lulu or Blurb.
For paper weaving, Zemlin subscribes to Handweaving.net for patterns and some editing features, and Weave It

 for iPad (purchase) for more editing features.
++++++
Visit Therese Zemlin's website to learn more about her work. You can also follow her on Instagram.
++++++
Music featuring excerpts of Makin' Paper folk song by Peter Thomas. Listen to the full song and find out about other paper and book arts folk songs.
Gary A. Hanson did the sound editing for this episode. He practices and refines his skills in audio production while making his own podcast I'll Have a Beer and Talk, a show about tech news, culture, weird animal stories and of course, beer. Gary is also the Deckle in Pulp & Deckle, a Portland-based community hand papermaking studio.
++++++