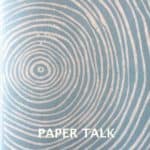 You can listen to this episode by clicking on the white arrow above, or subscribe to the Paper Talk podcast on Apple Podcasts (or find more listening options on Spotify) so you never miss an episode. If you enjoy the show, tell a friend about it! Thank you so much.
Brian Queen has been making paper by hand for 30 years and utilizing a wide range of materials and techniques. His interests span the book arts including hand papermaking, bookbinding and letterpress printing. As a craftsman and toolmaker, he explores how new technologies such as 3-D printing, laser cutters, and CNC machines impact the book arts. Along with his brother, he owns and operates Sensa-Light Ltd., a company that manufactures customs architectural lighting for offices, hotels and restaurants.
This is chandelier at Chateau Lake Louise in Alberta, Canada, designed and fabricated by Queen's company Sensa-Light, Ltd. The piece is 10 feet in diameter, 30 feet high and weighs 1.5 tons.
We talked quite a bit about Queen's explorations in watermarking, from simple lines to chiaroscuro images.
He created the watermark below in 1999. This image shows the laser-cut steel form employed to emboss the 60 mesh brass screen. A close-up shot of the mould surface shows that the majority of the surface is debossed, while the 1999 detail is raised, resulting in a combination dark and light watermark.
Here is a finished Michelangelo Tondo watermarked sheet. If you are interested in hearing more about Queen's 3D printed moulds, here is a link to a virtual lecture he gave at Kennesaw State University.
Queen created these Einsten watermarks for an issue of Hand Papermaking Magazine. On the right, you see a three-up version which is how he produced the papers that were then cut and hand tipped into the publication.
Queen creates elaborate keepsakes to share at papermaking conferences. Here is an example of a 'watermark in a box' keepsake which he created for the 2014 meeting of the International Association of Papermakers and Paper Artists in Fabriano, Italy.
Brian Queen's recommendations:
European Hand Papermaking, by Timothy Barrett. Queen believes this will become a classic textbook and a definitive guide due to its comprehensive exploration of nearly every facet of papermaking and its associated tools.
Evolon is an absorbent microfilament fabric that conservators use to wick moisture. Queen couches his watermarked sheets onto a piece of Evolon, placed on top of a commercial papermaking felt and then covers the sheet with a second piece of Evolon. After wet pressing, he transfers the Evolon-paper-Evolon sandwich into his dryer box. This prevents stretching when lifting, which can obscure a watermark. After drying, he peels the Evolon off of the paper, which imparts a fine finish.
This Immersion Water Heater heats a 5 gallon pail of water quickly to the desired temperature and keeps it there and it great for adding warm water to the vat or a rinsing tub.
++++++
You can contact Brian Queen at bqueen@shaw.ca.
++++++
Music featuring excerpts of Makin' Paper folk song by Peter Thomas. Listen to the full song and find out about other paper and book arts folk songs.
Gary A. Hanson did the sound editing for this episode. He practices and refines his skills in audio production while making his own podcast I'll Have a Beer and Talk, a show about tech news, culture, weird animal stories and of course, beer. Gary is also the Deckle in Pulp & Deckle, a Portland-based community hand papermaking studio.
++++++