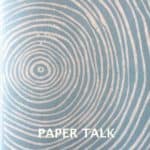 You can listen to this episode by clicking on the white arrow above, or subscribe to the Paper Talk podcast on Apple Podcasts (or find more listening options on Anchor.fm) so you never miss an episode. If you enjoy the show, tell a friend about it! Thank you so much.
Sammy Lee is an artist based in Denver, Colorado. Born and raised in Seoul, South Korea, Lee moved to Southern California at the age of sixteen. She studied fine art and media art at UCLA and architecture at the University of Massachusetts Amherst. Among her many accomplishments is a performative collaboration with Yo-Yo Ma during the Bach project tour in 2018. Lee was recently a resident artist at Redline in Denver; serves as an ambassador for Asian Art at the Denver Art Museum; was selected as a Fulbright US Scholar; and operates a contemporary art project and residency space, called Collective SML | k in the Santa Fe Art District in Denver. Lee's work has been exhibited internationally and can be found in collections at the Getty Research Institute, Bainbridge Island Museum of Art, Spencer Museum of Art, Denver Art Museum, and the Spanish National Library in Madrid.
Sammy Lee and I had a meandering conversation about her work, which appears in the form of installations and handmade books, transforming and re-contextualizing familiar items into art objects that reflect her personal history. She works with Korean hanji using three main processes: casting, wrapping and beating. 
We discussed Mammorial, an artist's book, which revolves around the physical and psychological shifts women experience through birthing and nursing.
A Very Proper Table Setting is an ongoing cross-cultural experiment that involves setting tables: visitors are invited to set up imaginary meals for someone special while using Korean serving vessels. Notes from the exercises -such as diner's name, information on meal and neighborhood – are documented and used as a guide for Lee to assemble communal dining tables, which she casts with paper.
Arrived is an ongoing installation (scroll down on this page to see more): Lee states: At age 16, I decided to reduce all my life into two check-ins and a carry-on. "The packing, which is the act—the art—of figuring out what not to take. You packed what you thought was essential, discarded what you thought wasn't, spent years figuring out how much of that you'd gotten right (from A Ghost Story by Aharon Levy, 2019)". Suitcases are anonymous and hard to identify from a distance upon arrival, yet unique and compelling at the personal level. These black suitcases embody the emotions shared by immigrants.  
Sammy Lee's recommendations:
Lee runs COLLECTIVE SML | k, an artist-run project space located just south of Santa Fe Art District of Denver, Colorado. One of the collective's critical missions is to promote Asian and Asian-American art and narratives through cross-cultural exchange and research. The collective is open to any creative suggestions to make Denver a more exciting and supportive art community.
Find your creative voice and tell your story.
Music featuring excerpts of Makin' Paper folk song by Peter Thomas. Listen to the full song and find out about other paper and book arts folk songs.
Gary A. Hanson did the sound editing for this episode. He practices and refines his skills in audio production while making his own podcast I'll Have a Beer and Talk, a show about tech news, culture, weird animal stories and of course, beer. Gary is also the Deckle in Pulp & Deckle, a Portland-based community hand papermaking studio.
++++++