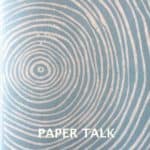 You can listen to this episode by clicking on the white arrow above, or subscribe to the Paper Talk podcast on Apple Podcasts (or find more listening options on Anchor.fm) so you never miss an episode. If you enjoy the show, tell a friend about it! Thank you so much.
Peter Thomas is a book artist, and a hand papermaker with a special interest in production papermaking. He has been making fine press and artist books in collaboration with his wife Donna Thomas since 1977. All of the books they make use their own handmade paper, and some of their books relating to papermaking include Beater Time Tests (1987), A Collection of Paper Samples from Hand Paper Mills in the United States of America (1993), Paper from Plants (1997), The History of Papermaking in the Philippines (2005), Tuckenhay Mill: People and Paper (2016), and Paper Samples (2022). Peter Thomas has written books and articles about papermaking and the book arts, produced a documentary/educational video titled "The Ergonomics of Hand Papermaking, and been active in the leadership of IAPMA, and the Friends of Dard Hunter (now North American Hand Papermakers).
I really enjoy talking about making paper by hand with someone who has explored the nuances of the craft for more than 40 years. It was so fun to hear how Peter Thomas explored the craft on his own in the early years, and how he began selling his paper and books at Renaissance Faires.
Thomas started making paper in the 1970's when hardly anyone was doing it, and found his way through exploration, research and perseverance.
Thomas' books are created solely with the paper he makes himself, and he has invented many of his own book structures. He and his wife Donna work together often: he makes the paper; she does the illustrations and the binding. And they've published a couple of trade books, along with hundreds of handmade books, which are catalogued online through the University of Wisconsin-Milwaukee.
Their editioned handmade books can be found in special collections worldwide. Not only do the Thomas' collaborate with each other, but they have produced handmade books featuring papers from international makers.
Thomas has traveled widely to see how other papermakers make good sheets and shares the findings in his books, a video on papermaking ergonomics and articles in publications.
Music featuring excerpts of Makin' Paper folk song by Peter Thomas. Listen to the full song and find out about other paper and book arts folk songs.
Gary A. Hanson did the sound editing for this episode. He practices and refines his skills in audio production while making his own podcast I'll Have a Beer and Talk, a show about tech news, culture, weird animal stories and of course, beer. Gary is also the Deckle in Pulp & Deckle, a Portland-based community hand papermaking studio.
++++++