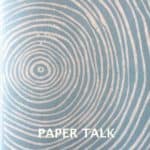 You can listen to this episode by clicking on the white arrow above, or subscribe to the Paper Talk podcast on Apple Podcasts (or find more listening options on Anchor.fm) so you never miss an episode. If you enjoy the show, tell a friend about it! Thank you so much.
Madonna Yoder started folding origami tessellations after taking Erik Demaine's Geometric Folding Algorithms class at MIT and she has designed over 300 new tessellations since 2018. Yoder helps aspiring tessellation folders to deeply understand tessellations so that they can fold from crease patterns, reverse engineer from photos, and even start designing their own tessellations through online videos and courses with her business, Gathering Folds. And unlike most origami instructors, she doesn't focus on individual designs in tutorials, but instead teaches broader structures, theory, and skills so that you can start folding new designs with confidence and get the most out of any tessellation workshop you attend.
We talked about the difference between smocking (done in fabric) and tessellations (origami tessellations are repeating geometric patterns folded from a single sheet of paper).
You can find a free tutorial on her blog for making your own smocked Christmas stocking.
Yoder's fascination with folding tessellations has led to the creation of a variety of patterns, products, and online classes.
To get started, you might want to check out these free options where you can dip your toes into the world of tessellations prior to diving in.
You'll also find patterns that you can purchase and download.
Yoder offers a host of online courses., and her Tessellation Starter Sequence will have you creating amazing folded forms with endless possibilities.
Madonna Yoder's recommendations:
++++++
Visit Madonna Yoder's website, follow her on instagram, and find out more about her online courses here. She also posts regularly on her Youtube channel.
++++++
Music featuring excerpts of Makin' Paper folk song by Peter Thomas. Listen to the full song and find out about other paper and book arts folk songs.
Gary A. Hanson did the sound editing for this episode. He practices and refines his skills in audio production while making his own podcast I'll Have a Beer and Talk, a show about tech news, culture, weird animal stories and of course, beer. Gary is also the Deckle in Pulp & Deckle, a Portland-based community hand papermaking studio.
++++++