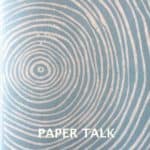 You can listen to this episode by clicking on the white arrow above, or subscribe to the Paper Talk podcast on Apple Podcasts (or find more listening options on Anchor.fm) so you never miss an episode. If you enjoy the show, tell a friend about it! Thank you so much.
Jane Ingram Allen is a sculptor and installation artist who uses hand papermaking with natural materials and collaborative processes to create  indoor and outdoor artworks that raise public awareness about environmental issues.  Jane has received numerous awards for residencies and community public art projects in the USA, the Philippines, Japan, Nepal, Brazil, China, Tanzania, Taiwan, Turkey, Indonesia and other countries.  She was a Fulbright Scholar artist-in-residence in Taiwan in 2004 and 2005 and a Fulbright Specialist in Turkey in 2015.  Jane is a former college art instructor and currently teaches workshops and writes about art for SCULPTURE and other art magazines as well as doing independent curating.  She was born and raised in Alabama and has lived in 7 different states and in Taiwan for 8 years. Since 2012 she has been based in Santa Rosa, CA, and continues showing her work in the US and internationally.
We talked about how she got into environmental art, which is so well suited for handmade paper. And we discussed several of her environmental installations.
Allen works often with seeds and paper, and her first project was titled Earth Quilt, created in 1995 (the 25th anniversary of Earth Day). You can see the progression of Allen with students installing the piece on Earth Day 1995 at SUNY Morrisville in Morrisville, NY; the wildflowers starting to come up; and the field in full bloom several months after the quilt was planted.
Allen spent time in Taiwan on a Fulbright, where she created her Taiwan Site Maps installation in 2004 at Suho Paper Museum in Taipei, Taiwan. Each of these pieces is a map of Taiwan with a colorful leaf on the other side. Each piece is about 6 ft. long and 3 ft. wide, made of handmade paper "made in Taiwan" from local materials and using paint and thread and other collected collaged materials.
Allen has created several "living quilts". She documents her Living Quilt for Sojourner Truth project in this series on Youtube. Here you see the freshly planted paper quilt.
In Deep Water is an ongoing collaborative project with Jami Taback, featuring 12 panels each about 1-2 feet wide and 12-16 feet long, handmade paper and printmaking joined with thread. This piece focuses on water and climate change.
Jane Ingram Allen's recommendations:
Paper and Colour: Dyes and Dyeing around the World by Radha Pandey, Editor
Ingram Allen is always looking at contemporary art and writes articles and reviews about things she sees, often in Sculpture Magazine. A couple of favorites: Ann Hamilton, Olafur Eliasson and paper artist Kyoko Ibe, from Kyoto Japan.
++++++
Visit Jane Ingram Allen's website and Instagram to learn more about her.
++++++
Music featuring excerpts of Makin' Paper folk song by Peter Thomas. Listen to the full song and find out about other paper and book arts folk songs.
Gary A. Hanson did the sound editing for this episode. He practices and refines his skills in audio production while making his own podcast I'll Have a Beer and Talk, a show about tech news, culture, weird animal stories and of course, beer. Gary is also the Deckle in Pulp & Deckle, a Portland-based community hand papermaking studio.
++++++