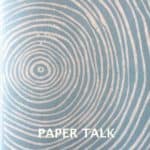 You can listen to this episode by clicking on the white arrow above, or subscribe to the Paper Talk podcast on Apple Podcasts (or find more listening options on Anchor.fm) so you never miss an episode. If you enjoy the show, tell a friend about it! Thank you so much.
Margaret Rhein has been involved full time in the art & craft of making paper by hand at her studio, Terrapin Paper Mill in Cincinnati, Ohio for the past 47 years. She has exhibited her paper collages in galleries and craft shows throughout the country and has taught many workshops in papermaking and book arts to adults and children. Over the years, she has made thousands of sheets of handmade paper, experimenting with a variety of fibers, shapes, colors and textures in 2- and 3-dimensional approaches. Rhein works spontaneously using colored cotton & linen pulps and combining patterned fabrics of various textures with other collage elements. on the paper surface. She is inspired by plant forms, landscapes and figurative themes and finds that papermaking lends itself to the collage process – the base fibers in a sheet of fresh handmade paper integrate with the components she applies to its surface. By adding artifacts and autobiographical treasures, paper excels in being a platform for telling stories, capturing memories and bringing deeper meaning to the resulting works of art.
We had a meandering conversation about how Rhein learned about hand papermaking, some of the influential paper people she got to know, and how she started Terrapin Paper Mill.
Her works in handmade paper are a delightful collage of natural materials, colors and layers. "Starting with a cotton rag pulp base, it is always fascinating to me to see what direction an image will take. Using stencils to layer patterns, Spanish moss and other natural materials, I find myself imagining walking through a deep dark forest that is welcoming."
We discussed Rhein's love of patterns and her collections of papers and materials. She has been collecting security envelopes for many years and has created several artist's books with them.
Rhein creates artwork, frameable papers, notecards and paper treasures for collage using her unique layering technique in the papermaking process.
++++++
Visit Margaret Rhein's website and Instagram to learn more about her.
++++++
Music featuring excerpts of Makin' Paper folk song by Peter Thomas. Listen to the full song and find out about other paper and book arts folk songs.
Gary A. Hanson did the sound editing for this episode. He practices and refines his skills in audio production while making his own podcast I'll Have a Beer and Talk, a show about tech news, culture, weird animal stories and of course, beer. Gary is also the Deckle in Pulp & Deckle, a Portland-based community hand papermaking studio.
++++++