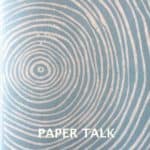 You can listen to this episode by clicking on the white arrow above, or subscribe to the Paper Talk podcast on Apple Podcasts (or find more listening options on Anchor.fm) so you never miss an episode. If you enjoy the show, tell a friend about it! Thank you so much.
Carol Barton is a painter, paper engineer, book artist and teacher who has published several editions and has organized both local and national shows, including the traveling Books and Bookends show and the Smithsonian Institution's Science and the Artist's Book exhibition. Her work is exhibited internationally and is in numerous collections, including the Library of Congress, the Museum of Modern Art, and the Victoria and Albert Museum in London. She has taught at elementary, high school, and university levels, and has conducted adult workshops at art centers internationally. She was on the faculty at The University of the Arts in Philadelphia for 35 years and George Washington University's Corcoran School of Art and Design in Washington, D.C. for four years. She has had residencies at the Bogliasco Foundation in Italy and the Sacatar Foundation in Brazil, GilsfjordurArts in Iceland, and the VCCA residency in France. Her Pocket Paper Engineer workbooks in three volumes are how-to guides to making pop-up cards and pages. She is now producing a series of watercolor landscape paintings for exhibition.
We talked about how she came to live in an old amusement park in the Washington DC area and the production of her early books.
Barton shared how she self published her how-to books, the
Pocket Paper Engineer series
, which are hard to find these days (she is hoping to republish the series).
I spent two weeks with Barton at ICA Arts in Italy last summer, where she spent her free time painting a series of lovely watercolors. She is currently focusing on painting.
Carol Barton's recommendations:
The Lonely Palette podcast, the podcast that returns art history to the masses, one object at a time.
Atlas Obscura, a publisher of best-in-class journalism about hidden places, incredible history, scientific marvels, and gastronomical wonders.
++++++
Visit Carol Barton's Popular Kinetics and Painting websites to learn more about her.
++++++
Music featuring excerpts of Makin' Paper folk song by Peter Thomas. Listen to the full song and find out about other paper and book arts folk songs.
Gary A. Hanson did the sound editing for this episode. He practices and refines his skills in audio production while making his own podcast I'll Have a Beer and Talk, a show about tech news, culture, weird animal stories and of course, beer. Gary is also the Deckle in Pulp & Deckle, a Portland-based community hand papermaking studio.
++++++