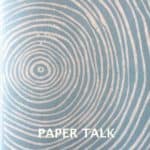 You can listen to this episode by clicking on the white arrow above, or subscribe to the Paper Talk podcast on Apple Podcasts (or find more listening options on Anchor.fm) so you never miss an episode. If you enjoy the show, tell a friend about it! Thank you so much.
Megan Singleton is a practicing artist, educator, and mother located in St. Louis, Missouri. The investigation of ecological relationships within society and the landscape is the basis of her work. As an interdisciplinary artist, she creates works that resonate with the materiality and rhythms of the natural world. Her creative practice intertwines sculpture, handmade paper, found objects, photography, and books arts. Singleton received her MFA in sculpture from Louisiana Sate University and her BFA in Photography from Webster University in St.Louis. She actively exhibits and was the recipient of the St. Louis Regional Arts Commission Artist Fellowship Grant, the Smelser-Vallion Visiting Artist Fellowship in Taos, NM and has participated in Artist Residencies across the US.
We talked about her MFA thesis exhibition
Eight Thousand
Daughters Woven into Bayou Braids,
which depicts and interprets the Louisiana landscape, exploring the destructive beauty and materiality of invasive aquatic plants. Singleton is interested in the small gesture of removing portions of these plants and utilizing them as a material in her studio.
Singleton developed her working process in graduate school, as illustrated in this diagram. She goes through stages of exploration, observation, research, interpretation and conversation, when developing and creating her work.
In the fall of 2018, Singleton began collaborating with the horticulture staff of Missouri Botanical Garden to collect a variety of plant species from the garden as they were being pruned back for winter. Twenty different plants, that would have otherwise been compost, were collected, processed, and transformed into unique sheets of handmade paper by the artist for this project which culminated in a book called Plant Transformations, Observations and Interactions.
​We also discussed processing grief through art. Singleton's body of work Siblings: Out Finding Beauty, features a selection of drawings by her late brother Jeremy, a.k.a, Cristo, and reflects the inward journey of recollecting and recording memories to transition onward after a deep loss. The text panels and sculptures made of handmade paper mimic the gesture of her brother's writing and are transformed into abstract textures on the wall, a relic of the process of remembering and releasing.
Singleton shows her sculptural work at Ann Connelly Gallery in Baton Rouge.
Megan Singleton's recommendations:
Singleton's favorite pot for cooking fiber is a used keg that has been modified by cutting the interior top out with a grinder, using the cutter wheel attachment.
++++++
Music featuring excerpts of Makin' Paper folk song by Peter Thomas. Listen to the full song and find out about other paper and book arts folk songs.
Gary A. Hanson did the sound editing for this episode. He practices and refines his skills in audio production while making his own podcast I'll Have a Beer and Talk, a show about tech news, culture, weird animal stories and of course, beer. Gary is also the Deckle in Pulp & Deckle, a Portland-based community hand papermaking studio.
++++++