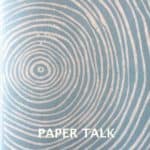 You can listen to this episode by clicking on the white arrow above, (or find more listening options on Anchor.fm) so you never miss an episode. If you enjoy the show, tell a friend about it! Thank you so much.
Drew Matott
divides his time between teaching at colleges, doing art residencies, completing studio work, designing new papermaking endeavors and directing
Peace Paper Project
. He has taught Photography and Contemporary Printmaking at North Country Community College, and Papermaking courses at the Community College of Vermont, Edgewood College, Ursuline College, Massachusetts College of Art and San Francisco Center for the Book. Since 2009, he has taught and exhibited internationally and completed numerous artist residencies.
This is the first book Drew created with handmade paper while at Buffalo State College. The book is a tribute to his late father, and contains his poems, drawings, photographs and writings.
Here's a shot of St. Pauli Paper Studio in Hamburg, Germany:
You can read more about Drew and the Peace Paper Project on the website.
Music featuring excerpts of Makin' Paper folk song by Peter Thomas. Listen to the full song and find out about other paper and book arts folk songs.
Gary A. Hanson did the sound editing for this episode. He practices and refines his skills in audio production while making his own podcast I'll Have a Beer and Talk, a show about tech news, culture, weird animal stories and of course, beer. Gary is also the Deckle in Pulp & Deckle, a Portland-based community hand papermaking studio.
++++++