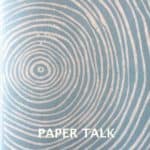 You can listen to this episode by clicking on the white arrow above, (or find more listening options on Anchor.fm) so you never miss an episode. If you enjoy the show, tell a friend about it! Thank you so much.
Craig Anczelowitz is an artist working with paper and mixed media, and he currently works as the director of Awagami International, where he handles international sales, new product development, overseas marketing and branding for this 8th generation Japanese papermill. Watch the video to see the way that traditional sheets are still being formed today.
Find out more about workshops & residencies at Awagami.
Here's a great description of Japanese papermaking.
Music featuring excerpts of Makin' Paper folk song by Peter Thomas. Listen to the full song and find out about other paper and book arts folk songs.
Gary A. Hanson did the sound editing for this episode. He practices and refines his skills in audio production while making his own podcast I'll Have a Beer and Talk, a show about tech news, culture, weird animal stories and of course, beer. Gary is also the Deckle in Pulp & Deckle, a Portland-based community hand-papermaking studio.
++++++