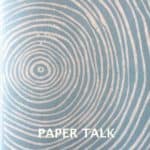 You can listen to this episode by clicking on the white arrow above, or subscribe to the Paper Talk podcast on Apple Podcasts (or find more listening options on Anchor.fm) so you never miss an episode. If you enjoy the show, tell a friend about it! Thank you so much.
Cathryn Miller has had an interest in making things out of paper since early childhood, and still believes that anything —except, perhaps, internal combustion engines— can be made out of paper. After being sidetracked in adult life by a short career as a theatrical designer, then a twenty year career as a textile artist, Miller returned to playing with paper in 1994. Since then, as Byopia Press, Miller has published limited editions of conventional books and produced multiple artist's books, altered books, and paper toys. Through the Byopia Press weekly blog, she offers frequent DIY projects for readers as well as sharing her own works in progress.
We had a delightful conversation about the many projects and contributions Miller is making in the field of paper art.
You should definitely follow her blog, where she talks about her own projects, posts project tutorials and features a weekly Friday Night Flick.
We talked about The Persistence of Hope, aka The Wishing Star Project, created from thousands of Chinese lucky stars and displayed as a very large artist's book, with contributed wishes inside of each star.
Miller designs unique projects for herself, like the 99 Day Project.
Miller creates artist's books and altered books. This piece is an artist's book called Finding a Way.
Cathryn Miller's recommendations:
++++++
Visit Cathryn Miller's website to learn more about her, and you can follow the Byopia Press blog and find Miller on Instagram and Pinterest too.
++++++
Music featuring excerpts of Makin' Paper folk song by Peter Thomas. Listen to the full song and find out about other paper and book arts folk songs.
Gary A. Hanson did the sound editing for this episode. He practices and refines his skills in audio production while making his own podcast I'll Have a Beer and Talk, a show about tech news, culture, weird animal stories and of course, beer. Gary is also the Deckle in Pulp & Deckle, a Portland-based community hand papermaking studio.
++++++