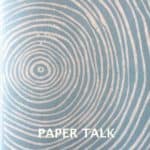 You can listen to this episode by clicking on the white arrow above, (or find more listening options on Anchor.fm) so you never miss an episode. If you enjoy the show, tell a friend about it! Thank you so much.
A long time resident of Tucson, Arizona, Catherine Nash is an artist who freely mixes media in her work to express her ideas. Specializing in Japanese and Western hand papermaking, encaustic painting and mixed media drawing, Nash is a teaching artist who balances her studio work with artist-in-resident teaching, lectures and workshops internationally. She shares her studio with her photographer husband Robert Renfrow.
Nash has published 4 educational DVDs on the art of papermaking, as well as a book that surveys international artists entitled "Authentic Visual Voices" that includes her interviews with 28 international artists about their creative ideas.
After receiving a B.F.A. in Printmaking and Drawing from the University of New Hampshire in 1980, Nash spent a year and a half creating prints and drawings in Paris. In 1987, she graduated from the University of Arizona with a Masters of Fine Arts in Mixed Media. Two independently designed research trips to Japan enabled Nash to study the techniques of Japanese woodblock printing and papermaking in depth. From 1996-2002, her extensive research in Italy and Scandinavia increased her knowledge of historical and contemporary Western papermaking and paper arts. Nash has combined encaustic waxes and filtered earth pigments with her handmade paper works since 1994. The landscape, aesthetics and cultures of Japan, the rich gradations and spaciousness of Scandinavian summer night skies, experiences with Native American friends and her explorations into the wilderness of the southwestern deserts have deeply influenced and informed her work.