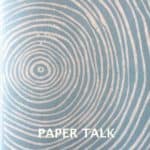 You can listen to this episode by clicking on the white arrow above, or subscribe to the Paper Talk podcast on Apple Podcasts (or find more listening options on Anchor.fm) so you never miss an episode. If you enjoy the show, tell a friend about it! Thank you so much.
Bruce Foster has paper engineered over 65 pop-up books, over 100 pop-up cards, and at least a dozen other unpublished works. Originally from southern Louisiana, Bruce attended art school at The University of Tennessee in Knoxville, earning his BFA with honors and returning later for graduate studies in studio art. Eventually settling in Houston, TX, he worked as a graphic designer and art director before discovering and launching a career in movable books in 1989.
Bruce, along with wife Lori (pictured with him, above) raised two wonderful daughters, Nicole (currently a registered nurse in orthopedics) and Lydia, who is currently also studying to be an RN. Bruce is also well known throughout Texas as an entertaining and educational presenter to both elementary students and adults.
We talked about Foster's early (pre-digital) work, which involved "push outs", featured in books that were constructed with a single piece of paper, and just three spreads. All the "pops" were designed to staircase off of the central gutter in both directions. This required a lot of measuring and balancing levels on both sides of the gutter.
Here's a spread from Peter Pan.
Sometimes pop-up books don't end up getting published, for a variety of reasons. Foster created this pre-illustrated prototype for a pop-up map of The Wizarding World of Harry Potter. Unfolding the board sideways and then lengthways opens it to 3 feet in length. The Hogwarts portion is very similar to a spread in the book, Harry Potter, the Pop-Up Book, based on the film phenomenon by Insight Editions, that Foster also designed.
We also discussed the Movable Book Society and the publication, Movable Stationery, which Foster edits. The top four newsletters are available for anyone to read. If you're interested in paper engineering, you can join this organization that has biannual in person meetings and quarterly Zoom show-and-tell sessions.
++++++
Visit Bruce Foster's website to learn more about him, and you can also find him on Instagram.
++++++
Music featuring excerpts of Makin' Paper folk song by Peter Thomas. Listen to the full song and find out about other paper and book arts folk songs.
Gary A. Hanson did the sound editing for this episode. He practices and refines his skills in audio production while making his own podcast I'll Have a Beer and Talk, a show about tech news, culture, weird animal stories and of course, beer. Gary is also the Deckle in Pulp & Deckle, a Portland-based community hand papermaking studio.
++++++