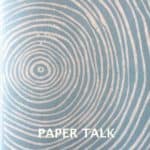 You can listen to this episode by clicking on the white arrow above, (or find more listening options on Anchor.fm) so you never miss an episode. If you enjoy the show, tell a friend about it! Thank you so much.
Beck Whitehead is a San Antonio artist who served as Chair of Papermaking and Book Arts at the Southwest School of Art until 2016. In addition she has taught workshops in papermaking around the country and in Canada. Whitehead creates paper paintings and one-of-a-kind books. Exhibitions include the Center for Book and Paper Arts in Chicago and the Robert C. Williams American Museum of papermaking in Atlanta.
++++++
Music featuring excerpts of Makin' Paper folk song by Peter Thomas. Listen to the full song and find out about other paper and book arts folk songs.
Gary A. Hanson did the sound editing for this episode. You can find him making audio magic with his podcast series, I'll Have a Beer and Talk, a show about tech news, culture, weird animal stories and of course, beer.