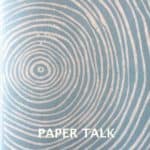 You can listen to this episode by clicking on the white arrow above, (or find more listening options on Anchor.fm) so you never miss an episode. If you enjoy the show, tell a friend about it! Thank you so much.
Mabel Grummer was married to Arnold Grummer, and together they founded Arnold Grummer's LLC in 1976. Arnold Grummer gained understanding of paper's structure and technology working with PhD scientists while on faculty at the Institute of Paper Chemistry. He later added the duties of Curator of the Dard Hunter Paper Museum where he assisted visitors and correspondents from all over the world with scholarly research. Blending knowledge of the historic snd scientific worlds of paper, Arnold Grummer's respect and passion for paper along with a keenly developed ability to communicate led to five books and diverse presentations with his Great American Paper Machine'.
Here are two photos of the Great American Paper Machine:
In 1999 the Friends of Dard Hunter captured the essence of Arnold's distinctive contribution with it's first-ever Lifetime Achievement Award: "For advancing the art of paper making…and sharing your infectious joy of the craft with us all." In 2012 Arnold Grummer gained honor for his unique contribution to the Paper Industry by being inducted into the Paper Industry International Hall of Fame in the category of Service, Educator, Entrepreneur.
Click here for more highlights of Arnold Grummer's career, books, articles and appearances.
Music featuring excerpts of Makin' Paper folk song by Peter Thomas. Listen to the full song and find out about other paper and book arts folk songs.
Gary A. Hanson did the sound editing for this episode. He practices and refines his skills in audio production while making his own podcast I'll Have a Beer and Talk, a show about tech news, culture, weird animal stories and of course, beer. Gary is also the Deckle in Pulp & Deckle, a Portland-based community hand-papermaking studio.
++++++