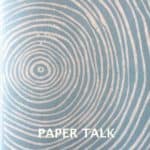 You can listen to this episode by clicking on the white arrow above, or subscribe to the Paper Talk podcast on Apple Podcasts (or find more listening options on Anchor.fm) so you never miss an episode. If you enjoy the show, tell a friend about it! Thank you so much.
Sierra Nevada-based visual artist Andie Thrams uses watercolors in wildland forests to create paintings and artist's books that explore mystery, reverence, and delight, while grappling with vanishing habitats. Merging the lineages of illuminated manuscripts and natural history field journals with a contemporary art and science awareness, her imagery weaves intricate botanical detail into rich layers of shape, color, and hand-lettered text to evoke the complex interconnections within ecosystems of the Greater West.
++++++
This episode was recorded on Earth Day, and we talked about the Skyline High School Earth Day Poster she created for the first earth day in 1970.
We had a meandering conversation about her work, which is created outside, in forest, and then finished up in her studio. Thrams speaks eloquently about her work: "Painting, walking, drawing, meditating, and observing nature are inseparable aspects of my art practice. I trek into wildland forests on foot or by kayak for hours, days, or preferably, weeks at a time. During my wilderness sojourns, I work with watercolor, gouache, and ink on rolled or folded sheets of paper, lightweight materials that fit into my pack or kayak."
"When I sit quietly in wild places, studying each leaf and color, every brushstroke weaves me more intimately into my surroundings. Separateness fades, and my sense of wonder and reverence for lifeforms that continue to thrive on our small planet deepens. Biophilia* lies at the heart of what I do."
We wrapped up talking about Thrams' Forest Prayer Flags, which she has exhibited in the forest.
++++++
Andie Thrams recommendations:
Visit Andie Thrams website and Instagram to learn more about her work.
++++++
Music featuring excerpts of Makin' Paper folk song by Peter Thomas. Listen to the full song and find out about other paper and book arts folk songs.
Gary A. Hanson did the sound editing for this episode. He practices and refines his skills in audio production while making his own podcast I'll Have a Beer and Talk, a show about tech news, culture, weird animal stories and of course, beer. Gary is also the Deckle in Pulp & Deckle, a Portland-based community hand papermaking studio.
++++++