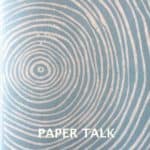 You can listen to this episode by clicking on the white arrow above, (or find more listening options on Anchor.fm) so you never miss an episode. If you enjoy the show, tell a friend about it! Thank you so much.
Aimee Lee is an artist, papermaker, writer, and the leading hanji researcher and practitioner in North America. Her Fulbright research on Korean paper led to her award-winning book, Hanji Unfurled, and the first US hanji studio in Cleveland. She continues to consult on and build studios to accommodate Korean and East Asian papermaking. Her artwork resides in collections around the US, she has exhibited, taught and lectured at numerous venues, and her work has appeared in The Korea Times, The New York Times, The Plain Dealer, KBS World Radio, PBS, VOA, and CNN's Great Big Story.
Hanji Unfurled is available from The Legacy Press.
Subscribe to Aimee's newsletter in the footer at this link.
Making Milkweed Paper is the zine we talked about.
Music featuring excerpts of Makin' Paper folk song by Peter Thomas. Listen to the full song and find out about other paper and book arts folk songs.
Gary A. Hanson did the sound editing for this episode. He practices and refines his skills in audio production while making his own podcast I'll Have a Beer and Talk, a show about tech news, culture, weird animal stories and of course, beer. Gary is also the Deckle in Pulp & Deckle, a Portland-based community hand-papermaking studio.
++++++