25

Days

of

Paper

2016

, Day 7

If you haven't noticed, I have a fascination with paper manipulation. So when I stumbled across a book called The Art of Manipulating Fabric, I poured over it looking for techniques that might translate into paper. If this is of interest to you too, you might want to look up the work of Jocelyn Chateauvert, a self proclaimed "paper wrangler" who has been manipulating wet handmade sheets for years. Her artwork is stunning!


The March project in the Twelve Months of Paper calendar features a pleated lantern. Another passion of mine is figuring out how to create something from one sheet of paper (one day I'm going to put together a book of one-sheet wonders).


So you see, this lantern is created from a manipulated sheet of 8-1/2 x 11″ sheet of paper. Pleating is just a step beyond an accordion fold. And BTW, this paper is called tatami, is one of my new favorite papers and is available from Washi Arts. I like it because it is thin, strong, translucent, and simply elegant.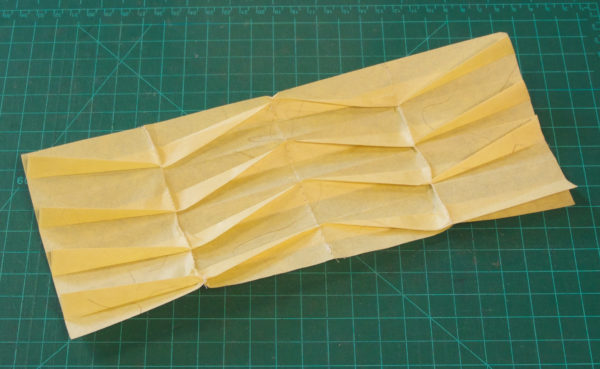 Here you see the smushing of the pleats in action… it isn't the prettiest or simplest, but the results are pretty fabulous.


This is a behind-the-scenes image from the photo shoot we did for the calendar (special thanks to my summer interns Tracy Norman and Eden Marek).


And I don't think I've shown you the little tea lights that I enjoy using to illuminate this type of lantern. These are battery-operated LED tea lights. And here's a fun fact – in searching for this image, I've realized that they are available at Home Depot. I've been ordering them on-line but now have a quicker and simpler source!


Here are the lanterns aglow. Notice that the green and blue ones are merely pleated horizontally, while the yellow and orange ones have an added diagonal dimension.
——————————————————————————————————————–
About the 
25 Days of Paper 2016
: It's a great time to celebrate paper, and I'm delighted to share my ideas for using this amazing material with you. If you'd like more info about the
Twelve Months of Paper Calendar
,
click here
. Receive these blog updates via e-mail by adding your address in the upper right hand corner of this page. Enjoy the season, and feel free to leave a comment below and check out what people are making in the
25 Days of Paper FB Group
!