Luminessence Light Sculpture
25 Days of Paper 2015, Day 5
Luminessence is the essence of light captured in hand-crafted light sculptures of laminated paper and wood. Since 1964 this original art form has been evolving through the creative vision of artist Stephen White.
I met Stephen when I lived in Portland, OR (he lives and works in Eugene) and was immediately drawn to his work, as you might imagine. His creations are made using a fine grade of tissue which is laminated – about a dozen layers – papier mache' fashion, creating a translucent 'skin' that is both beautiful in the way it diffuses light and durable for longevity. The surface appearance of a Luminessence light sculpture is parchment-like in texture and color. The pieces are non-collapsible and come wired ready for installation. 
Readers of The Sunday Paper will be offered a 10% discount for purchases of available works pictured on Stephen's website through 1/31/16. Prices upon request.
Each piece is signed, dated and numbered signifying it as an original work of art. These works are designed for residential or commercial interiors where a unique artistic expression in lighting is desired.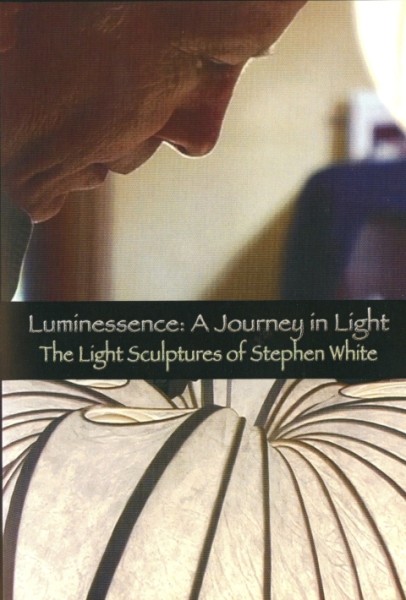 I have a copy of this lovely 36 min DVD by Bruce Kubert, which includes the story of Stephen's creative exploration of light sculpture, as well as an extended slide show. You can purchase a copy here.
–––––––––––––––––––––––––––––––––––––––––––––––––––––––––––––––––
About Our Sponsor: Luminessence for most of Stephen's career has been a solo artist's studio. Periodically, he has trained others as apprentices, and some of them have gone on to establish their own artistic vision in this medium. Luminessence is represented in showrooms and galleries in Seattle, Portland, San Francisco, Los Angeles, Honolulu, New York City and Stephen's home town, Eugene, Oregon. His studio and home are his 'gallery', too and may be visited by appointment.
–––––––––––––––––––––––––––––––––––––––––––––––––––––––––
About the 25 Days of Paper 2015: It's a great time to celebrate paper, and I'm delighted to share my ideas for using this amazing material with you. Throughout December, I'll be posting a paper tutorial on even days, and every odd day will bring news about paper artists, stores, distributors and more! Receive updates via e-mail by adding your address in the upper right hand corner of this page. Enjoy the season, and feel free to leave a comment below and check out what people are making in the 25 Days of Paper FB Group!