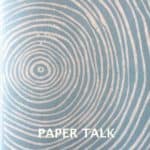 The Sunday Paper #70
Paper of the Week: Abaca with Embedded Wire
When I learned that I could embed items between two sheets of wet handmade paper during the papermaking process an entire new world opened up for me. I am perpetually interested in how I can use the papermaking process to create unique papers, how I can use innovative papermaking techniques to make my art and how I can simplify production processes. 
Here you see three sheets of handmade abaca paper with 18 gauge brass wire embedded (I've also used 18 gauge copper and 20 gauge stainless steel, all chosen because they don't rust). Here's the cool thing about this wire paper: it makes a new material – you can bend it and the wire and paper hold their shape. The orange sheet shows how the sheets look after air drying. The purple sheet has been carefully stretched out and flattened, and the yellow/green sheet has been shaped, just to give you a hint of the possibilities. I have used this technique to create lamps and lanterns of varying shapes. The translucency of the fiber makes it a natural for illumination.
————————————————————————————————————––––––––––––
In the Studio: 
Here's a studio tip from Linda Draper of San Antonio who came up with this unique way to make handmade paper envelopes.
Linda made a shaped deckle from children's fun foam. She "drew" the yellow lines with fabric paint onto a piece of fiberglass window screen that she ultimately cut down to the outside dimension of her mould. To make paper, the fiberglass is placed on top of the mould, the fun foam on top of that and finally the wooden deckle. Linda suggests using a fairly thin concentration of pulp in the vat, and once the water is drained after pulling a sheet, she removes the wooden deckle and the foam deckle and carefully couches the sheet onto a felt. Those yellow lines protrude into the sheets of paper as they are being formed, making the paper thinner in those areas and therefore easy to fold and assemble the envelopes once they are dry.
I'd love to feature other studio tips in The Sunday Paper. Leave a comment if you have something you'd like to share!
————————————————————————————————————––––––––––––
This video features Sentient Matrix, a recent work by Sara Garden Armstrong. The sculpture is an abstraction of the central nervous system and an exploration and translation of scientific information into art. Within translucent abaca forms, moving lights suggest the linear rhythms of nerve impulses. When the light stops, it represents what happens in multiple sclerosis (MS) when the myelin and nerve are damaged. This is a permanent installation at The National Multiple Sclerosis Society, Alabama-Mississippi Chapter Legacy of Leadership honoring M. Miller Gorrie.
Sara and I co-wrote an article about our recent installations that is in featured in the current issue of Hand Papermaking Magazine
Animal Tales is an exhibition at The British Library until 1 November. The exhibition celebrates the role of animals in literature with some historic books, beautiful illustrations and some unusual ones like this one featuring Dolly the Sheep and her clones.
The artist Li Hongbo outdoes himself! Check out this installation at SCAD Museum of Art and try to envision what the shapes represent before you read the title. Amazing, right?! Scroll down to the bottom of the link to see them before they were unfolded into these forms.
This is a great blog post by Cathryn Miller (byopiapress) about her decision to nail a book to a tree. There's a great backstory with reference to other outdoor book projects that you'll enjoy reading about. And the story about her book has the perfect ending! After twenty months of waiting, Cathryn got exactly the result she had hoped for: bald-faced hornets are turning the book into something useful. About 12 meters (40 feet) from the book, in a cluster of small branches, they are building a nest. Take a look!
 Check out this lovely video about Kelly Anderson, a young artist,
designer and tinkerer who has done some incredible projects with paper, both in the physical and in the virtual world.
————————————————————————————————————––––––––––––
If you enjoyed reading The Sunday Paper today, why not sign up to get it delivered to your in-box each and every Sunday? Click here to subscribe (it's free), and you'll receive my nifty pop-up alphabet template as a thank you gift! 
If you read this blog regularly, would you consider making a donation to support the research, writing, design and delivery of The Sunday Paper? Click on that cute paper button (I made that paper) to see how you can provide support.
And if you run a paper-related business, you might be interested in promoting your business in The Sunday Paper.
Thank you to those who have pledged your support, and enjoy your Sunday!