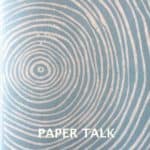 You can listen to this episode by clicking on the white arrow above, (or find more listening options on Anchor.fm) so you never miss an episode. If you enjoy the show, tell a friend about it! Thank you so much.
Sarah Brayer is American artist based in Kyoto, Japan. She is internationally known for her large-scale, poured washi paperworks and aquatint prints. Sarah first encountered poured washi paperworks – the technique she soon adopted as her own-during a visit to Dieu Donné paper studio in New York City in 1986. This painterly, and somewhat unpredictable technique seemed a perfect blend of chance and design, led her to search out the ancient Japanese paper center of Imadate, Echizen as the place to make large-scale poured-paper images. She has created her art there continuously since 1986, as the only western artist to do so. She is assisted by a team of master women papermakers who assist her in moving the large screens that are essential tools in her large-scale works.
I had a wonderful visit to Sarah's studio in November of 2019. We spoke about her interest in Japanese fusuma doors, and here are the two sides of the panels she created in her home.
View from the dining room:
From the Japanese tatami room:
Sarah works with phosphoresent pigments and she showed me some of these works that were in her huge flat files from her luminosity series. You can watch how these illuminate in this video.
Here are images of Misty Blue Moon in the light and the dark.
Sarah recently produced this beautiful monograph, which you can download as a pdf or purchase.
Music featuring excerpts of Makin' Paper folk song by Peter Thomas. Listen to the full song and find out about other paper and book arts folk songs.
Gary A. Hanson did the sound editing for this episode. He practices and refines his skills in audio production while making his own podcast I'll Have a Beer and Talk, a show about tech news, culture, weird animal stories and of course, beer. Gary is also the Deckle in Pulp & Deckle, a Portland-based community hand papermaking studio.
++++++