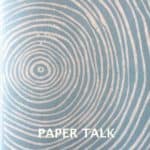 You can listen to this episode by clicking on the white arrow above, (or find more listening options on Anchor.fm) so you never miss an episode. If you enjoy the show, tell a friend about it! Thank you so much.
Richard Flavin grew up in the Boston area and passed away in Tokyo, Japan in 2020, where he was a papermaker and printmaker. He and his wife ran Sind Gallery, where they showed her textile work and his prints and paper works. I was able to visit and interview Flavin in Tokyo at the gallery in December of 2019. Here are a few of Richard's pieces that were hanging in the gallery.
I didn't get to see Richard's papermaking studio (Jionji Press) is in Saitama Prefecture, but he sent me these photos of his papered floors and kitchen cabinets.
Music featuring excerpts of Makin' Paper folk song by Peter Thomas. Listen to the full song and find out about other paper and book arts folk songs.
Gary A. Hanson did the sound editing for this episode. He practices and refines his skills in audio production while making his own podcast I'll Have a Beer and Talk, a show about tech news, culture, weird animal stories and of course, beer. Gary is also the Deckle in Pulp & Deckle, a Portland-based community hand papermaking studio.
++++++