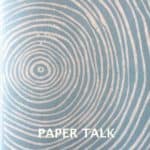 You can listen to this episode by clicking on the white arrow above, (or find more listening options on Anchor.fm) so you never miss an episode. If you enjoy the show, tell a friend about it! Thank you so much.
Pamela Paulsrud's exploration of energy and vibration, letters and lines, her love of the land, the earth and its resonance, inspires both her work and her life. Her research and practice in energetic healing modalities simultaneously inform her art. Pamela is a visual artist recognized internationally as a papermaker, calligrapher, book artist and collaborator creating both intimate pieces and large-scale installations. Pamela also teaches workshops in mark-making, lettering, and book arts.
We chat about her work with cymatics in paper.
Pamela is especially passionate about an on-going project, Treewhispers, which we discuss in the episode. The project involves handmade paper, art, poetry and stories relating to trees. Here are a few contributed tree rounds – everyone is invited to share a tree story. Find out more at the link.
We end our conversation with Pam telling me about the time Greenpeace contacted her, and how Treewhispers became an influential part their Our Voices Art Vital campaign to save the Great Northern Forest.
Music featuring excerpts of Makin' Paper folk song by Peter Thomas. Listen to the full song and find out about other paper and book arts folk songs.
Gary A. Hanson did the sound editing for this episode. He practices and refines his skills in audio production while making his own podcast I'll Have a Beer and Talk, a show about tech news, culture, weird animal stories and of course, beer. Gary is also the Deckle in Pulp & Deckle, a Portland-based community hand papermaking studio.
++++++