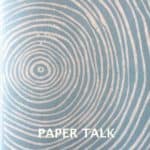 You can listen to this episode by clicking on the white arrow above, (or find more listening options on Anchor.fm) so you never miss an episode. If you enjoy the show, tell a friend about it! Thank you so much.
Michael LaFosse has been working for over forty years as an origami artist, papermaker and author. Trained as a biologist, he finds his strongest inspiration in the natural world preferring to study his subjects in their natural habitats. He credits the work of the late Japanese Origami Grand Master, Akira Yoshizawa, for leading the way by exploring nature and achieving creative expression in origami art. In 1996, Michael and Richard Alexander co-founded the
Origamido Studio
, a teaching center, gallery and origami design studio where they author publications of their original origami sculptures and make custom, handmade paper for each new creation.
Here is Michael's original origami squirrel design.
And here it is rendered in bronze by
Box Studios
. This is part of a traveling exhibition called Origami in the Garden, and this photo was taken at The Morton Arboretum in 2018. There is an origami acorn in the photo as well:
Seed
by Kevin Box, Beth Johnson Brown/Ferric Patina on Bronze 13″x 16″x 13"
At the end of the interview, Michael tells a storygami about this sailboat. You can listen and fold along!
Music featuring excerpts of Makin' Paper folk song by Peter Thomas. Listen to the full song and find out about other paper and book arts folk songs.
Gary A. Hanson did the sound editing for this episode. He practices and refines his skills in audio production while making his own podcast I'll Have a Beer and Talk, a show about tech news, culture, weird animal stories and of course, beer. Gary is also the Deckle in Pulp & Deckle, a Portland-based community hand papermaking studio.
++++++