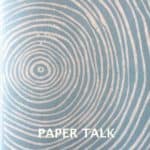 You can listen to this episode by clicking on the white arrow above, (or find more listening options on Anchor.fm) so you never miss an episode. If you enjoy the show, tell a friend about it! Thank you so much.
| | |
| --- | --- |
| | |
Melanie Brauner
is a hand papermaker, metalsmith, and sometimes book artist living and working in Everett, Washington. Her jewelry line,
Verso
, is made from hand-fabricated metal forms cast with a paper skin and coated in resin, and her mixed media sculpture is made from her own handmade paper, metal, wood, reed, and paint. Her work explores the Kantian concept that beauty can be universal, and that imitation of nature may be the path to a universal beauty. She graduated from Oregon College of Art and Craft with a BFA in 2014, where she studied book arts and metals. She launched Verso in January 2016, and now sells her jewelry at art fairs year round, and at galleries, art museum shops, and boutiques all around the country.
Here are a few images of her jewelry:
People often question the durability of paper jewelry. Melanie's pieces are resilient and waterproof!
We talked a bit about her sculpture:
And this is the supplier she mentioned for kakishibu (persimmon tannin).
You can learn more about Melanie on her website, follow her on instagram and facebook.
Music featuring excerpts of Makin' Paper folk song by Peter Thomas. Listen to the full song and find out about other paper and book arts folk songs.
Gary A. Hanson did the sound editing for this episode. He practices and refines his skills in audio production while making his own podcast I'll Have a Beer and Talk, a show about tech news, culture, weird animal stories and of course, beer. Gary is also the Deckle in Pulp & Deckle, a Portland-based community hand papermaking studio.
++++++