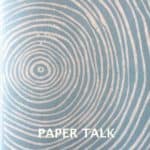 You can listen to this episode by clicking on the white arrow above, (or find more listening options on Anchor.fm) so you never miss an episode. If you enjoy the show, tell a friend about it! Thank you so much.
Jocelyn Châteauvert
is a paper artist, who creates jewelry, lighting, sculpture, and installations from the paper she makes by hand. After earning an MFA from the University of Iowa, she taught electro-forming at Middlesex Polytechnic in London, and then established her career in San Francisco. Since 1999, she has lived in Charleston, South Carolina, devoting herself to handmade paper. She is recipient of a Smithsonian Artist Research Fellowship and the Craft Fellowship award from the South Carolina Arts Commission. Her work is in the collections of the Smithsonian American Art Museum, Museum of Fine Arts (Boston), Mint Museum (Charlotte, NC), South Carolina State Museum and the Medical University of South Carolina.
Here are a few images of some of the jewelry we talked about:
And this one, from the Life Sucks series.
And take a look at how she manipulates paper!
Here is an installation shot + a detail of her Invasive Species installation that won the People's Choice Award at Art Fields:
And here are some of her lovely lights, installed at Peppervine Restaurant in Charlotte, NC:
You can learn more about Jocelyn on her website.
Music featuring excerpts of Makin' Paper folk song by Peter Thomas. Listen to the full song and find out about other paper and book arts folk songs.
Gary A. Hanson did the sound editing for this episode. He practices and refines his skills in audio production while making his own podcast I'll Have a Beer and Talk, a show about tech news, culture, weird animal stories and of course, beer. Gary is also the Deckle in Pulp & Deckle, a Portland-based community hand papermaking studio.
++++++