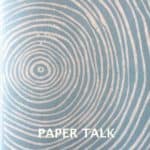 You can listen to this episode by clicking on the white arrow above, (or find more listening options on Anchor.fm) so you never miss an episode. If you enjoy the show, tell a friend about it! Thank you so much.
| | |
| --- | --- |
| | |
Janna Willoughby-Lohr is the artist behind
Papercraft Miracles
. Based in Buffalo, NY Janna is a poet, an artist, and a musician, having written her first poem at the youthful age of 5. She attended Warren Wilson College in Swannanoa, NC, where she discovered the world of papermaking and bookbinding and was lucky enough to study under renowned book artist and author, Gwen Diehn. Janna created Papercraft Miracles in 2004, as a way to make a living creatively, with a dedication to the craft of paper & book arts. She is thrilled that her creations have become a part of so many special moments, from weddings, to graduations, to births. As so much of the world is becoming screen-based and digital, Janna feels a calling to preserve and promote the physicality of book and paper arts. She loves bright colors, giggling and things that are small.
Papercraft Miracles uses paper to tell your story. Check out their wedding products.
Papercraft Miracle's seed bombs are made from recycled pulped cotton fiber and is pigmented only with edible food coloring and come in a variety of clever options.
Papercraft Miracles creates everlasting floral arrangements including custom bouquets, centerpieces & decor, flower walls & backdrops, hair pieces, corsages, boutonnière and more!
Find out more about Janna on her website, or follow her on Instagram.
Music featuring excerpts of Makin' Paper folk song by Peter Thomas. Listen to the full song and find out about other paper and book arts folk songs.
Gary A. Hanson did the sound editing for this episode. He practices and refines his skills in audio production while making his own podcast I'll Have a Beer and Talk, a show about tech news, culture, weird animal stories and of course, beer. Gary is also the Deckle in Pulp & Deckle, a Portland-based community hand papermaking studio.
++++++