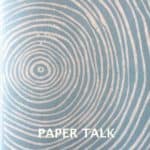 You can listen to this episode by clicking on the white arrow above, (or find more listening options on Anchor.fm) so you never miss an episode. If you enjoy the show, tell a friend about it! Thank you so much.
Ioana Stoian is a British-born paper artist currently living in Minnesota with her husband Eric Gjerde, and their best collaboration to date – a three-year-old son. In addition to making handmade paper artworks and artists' books, Ioana enjoys the challenge of creating books for the mass market. She is the author of Origami for All, Elegant Designs from Simple Folds, The Origami Garden and Always be You, her debut children's book (the illustrations are made entirely from handmade paper!).
We talked about Ioana's painting background. Here is an example – Ioana assisted Scottish artist Lucy McKenzie to assist on a large installation for the Museum of Modern Art in New York.
Here's a video of The A-Z of Motherhood, an artist's book that documents this journey. Within the pages of the book are 26 words that map the first two years of Ioana's experience. Each page of handmade paper is dyed with the color that corresponds to its specific word, amplifying the energy of the emotions.
And here is Ioana reading her latest book, Always Be You (the distributor is offering free shipping on this book now through June 30, 2020).
Music featuring excerpts of Makin' Paper folk song by Peter Thomas. Listen to the full song and find out about other paper and book arts folk songs.
Gary A. Hanson did the sound editing for this episode. He practices and refines his skills in audio production while making his own podcast I'll Have a Beer and Talk, a show about tech news, culture, weird animal stories and of course, beer. Gary is also the Deckle in Pulp & Deckle, a Portland-based community hand papermaking studio.
++++++