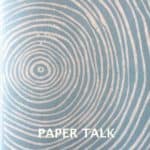 You can listen to this episode by clicking on the white arrow above, (or find more listening options on Anchor.fm) so you never miss an episode. If you enjoy the show, tell a friend about it! Thank you so much.
Cathleen Baker received her BA in art history from the University of Michigan. In 1968, she moved to the U.K., and in the 1970s, Cathy was the paper conservator for the Courtauld Institute Galleries in London. She returned to the U.S.A. in 1978, and from then until 1993, she taught at SUNY's Cooperstown/Buffalo graduate program in art conservation. In 1985, she also received an MA in art history from Syracuse University, where she wrote her thesis on The Birds of America.
Between 1993 and 2004, she published her first book, By His Own Labor: The Biography of Dard Hunter (2000) and received an MFA in Book Arts in 2000 and a PhD in communication studies in 2004, both from the University of Alabama. In 2005, she joined the University of Michigan Library as a senior conservator of paper and books; Cathy retired in 2016 as conservation librarian emerita. In 2010, she published From the Hand to the Machine: Nineteenth-Century American Paper and Mediums: Technologies, Materials, and Conservation.
Since 2015, Cathy has been researching the first western-made wove paper, probably made by James Whatman I, that appeared in John Baskerville's Virgil (1757). To date, she has examined 185 copies of this book, held in this country, the U.K., and Germany. The prevailing assumption is that this paper was formed on a woven-wire screen, but Cathy feels sure it was formed on a textile-covered, single-face laid screen. Her investigations took her to the University of Iowa Center for the Book, where she and Tim Barrett carried out papermaking experiments with a cloth-covered, laid mould, experiments that Cathy feels verify her theory. The story of her research appears in Volume 1 of Papermaker's Tears: Essays on the Art and Craft of Paper (2019).
Her imprint, The Legacy Press, begun in 1997, for which she is editor and designer, publishes award-winning books about the history and technologies of papermaking, printing, and bookbinding.
Music featuring excerpts of Makin' Paper folk song by Peter Thomas. Listen to the full song and find out about other paper and book arts folk songs.
Gary A. Hanson did the sound editing for this episode.  He practices and refines his skills in audio production while making his own podcast I'll Have a Beer and Talk, a show about tech news, culture, weird animal stories and of course, beer. Gary is also the Deckle in Pulp & Deckle, a Portland-based community hand papermaking studio.
++++++