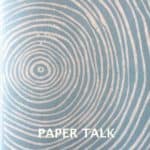 You can listen to this episode by clicking on the white arrow above, (or find more listening options on Anchor.fm) so you never miss an episode. If you enjoy the show, tell a friend about it! Thank you so much.
Born in France, Béatrice Coron lived in Egypt, Mexico and China before moving to New York. For the last 25 years, Coron has been exploring visual storytelling in artist books, paper cutting and public art. She adapts her papercut designs in metal, stone and glass. Rather than leaving one expression for another, she makes artist books for the viewer to step into, and fine art with illustration methods. She favors an expression that encompasses all of her creative instincts. Coron's papercuttings were shown at Slash at the Museum of Arts & Design and she spoke about her creative process at TED 2011. You can see her work in major collections such as the Metropolitan Museum of Art and the Walker Art Center and her public art in subways and airports.
At the time of the airing of this episode, Coron has a unique installation of her animated papercuts projected on a building at the University of Connecticut (through August 31, 2020).
View the catalog of her series of fashion bugs called Fashion Under the Microscope.
Read more about Béatrice Coron and her work on her website.
Music featuring excerpts of Makin' Paper folk song by Peter Thomas. Listen to the full song and find out about other paper and book arts folk songs.
Gary A. Hanson did the sound editing for this episode. He practices and refines his skills in audio production while making his own podcast I'll Have a Beer and Talk, a show about tech news, culture, weird animal stories and of course, beer. Gary is also the Deckle in Pulp & Deckle, a Portland-based community hand papermaking studio.
++++++